Strengths of Kakerukoumuten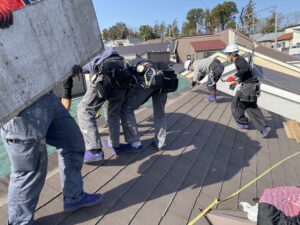 Our staff is all young, in their 20s.
They work quickly and energetically, taking advantage of their youth.
"You're looking good!" "Everyone is so energetic!
These are just a few of the many compliments we receive.
However, perhaps because we are young, you may have some technicalconcerns.We've actually had this pointed out to us before.
If you take a look at our work, you will see that there is no need to worry about that, so we would like to introduce our approach here.
Feelings toward work
We are willing to take on any job. No matter how small the task, we are happy to be entrusted with it and to have your trust.
As part of Kakerukoumuten's company culture, we strive to be prompt and courteous.
「I was right to ask you!」「It was good decition to leave you in charge!」
I am more than happy that our customer feels this way.
Our staff is not only skilled, but also service-minded.We aim to improve our services by taking the initiative to do what other companies do not do in order to satisfy our customers.
We will gladly handle even small things such as rain gutter cleaning and partial repairs.
Exterior work can be done consistently
Kakerukoumuten Co., Ltd. is mainly engaged in roofing sheet metal work, temporary scaffolding (wedge-type), and complete painting work, all done completely in-house.
・Roof Sheet Metal Work Team 3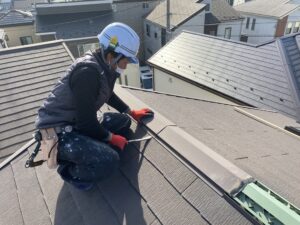 We can replace rain gutters and slates, including roofing overlay (cover method) and reroofing. We can also handle gable sheet metal.
・Painting Works Team 1


We can hand-paint with a roller, of course, but can also spray or replace caulking.
・Scaffolding Work (wedge type) Team 2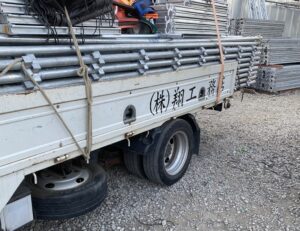 Because we can undertake scaffolding, roofing, and painting work as a complete set, we have received comments such as, "Management of the site has become easier!" and others.
Since we are the only company working on construction, we can prevent problems.
Of course, we can also handle requests for roofing work only or scaffolding work only!
We have earned the trust of our customers through the reliable technical skills of our craftsmen, the safety of our work site environment, and the speed of our work to shorten the construction period.

If it is just a small replacement of gutter or roofing sheet metal, we can build a scaffold, install and dismantle it on the same day.
なので、A project that would normally take three days by two people to complete can be completed in one day by three people!!We can cut your transportation and labor costs drastically! We would like you to take a look and compare us with other companies.
We are also very confident about the price. We would like you to compare us with other companies.
I will respond to any project in a serious and flexible manner.
Strength in teamwork
Our staff works well as a team and always collaborates with each other.
Each team discusses and shares information on what to look out for at each site.
As the roofing and painting teams use the temporary scaffolding set up by the scaffolding team, we exchange opinions that only the construction workers can understand, such as
"It would be easier to construct if there was a stage here."
"The gutter replacement was a little difficult to install."
"The scaffolding was very easy to install this time!"
and try to make the scaffolding as safe and easy to construct as possible for the craftsmen who use it.
We understand that scaffolding can greatly affect the efficiency and finish of the work.
This fact is difficult to understand for people other than painters and sheet metal workers who use scaffolding, but our staff members give advice to each other to improve their skills and workmanship.
Personnel Training
Our company's personnel training is not based on the idea of "learning techniques by watching our seniors"
because if we gain wrong knowledge, it will lead to poor construction and slow down our growth.
We believe that by having them experience growth, it will increase their motivation and sense of responsibility.
Even if it is quicker to do it by themselves on the spot, our seniors try to teach them by having them actually do the work, even if it is just one day.
When they return to the materials yard, I explain how to fold roofing sheet metal using scrap materials, and what to pay attention to when installing it, and educate them on the techniques.
In this way, they acquire skills and become capable workers.
Practice of pigeon house sheet metal fabrication in the materials yard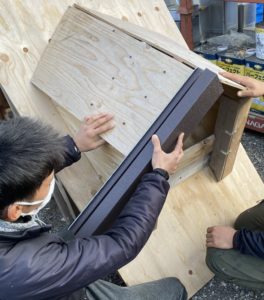 ・Practice of skylight sheet metal processing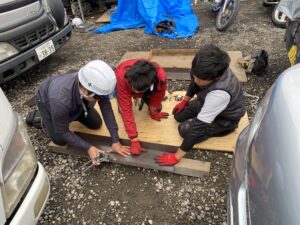 ・Practice of Keraba sheet metal and sword tip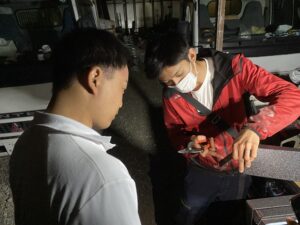 In the above scene, a senior craftsman teaches a junior craftsman the techniques of roofing sheet metal work using a practice table in the materials yard.
There are many things that can only be learned in the field, but what can be done in the material yard, we practice in the material yard.
The first thing you will learn is what is easy to remember. You will practice many times and be checked by senior staff.
Since construction sheet metal requires different processing depending on the site, we conduct regular training to improve the skills of each staff member so that they can handle various sites.
Security Management
As is common to all construction businesses, safety is the first priority. Even if you have good construction skills, accidents can easily occur due to lack of communication with others, impatience, or acts of not taking enough time. At Kakerukoumuten, we communicate well with our staffs, and safety is our top priority rather than the speed of our work.
Whenever we leave a job site, we always check for tools on the scaffolding and for objects that might fly off, so that we are aware of the possibility that "we might fall" or "fly off", not that "we might not fall" or "not fly off".
As for tools, we always check the wires of the hoisting machine and power tools when they are in use.
All of our craftsmen are thoroughly aware of the importance of safety and caution at the job site.
Kakerukoumuten's Rules
At Kakerukoumuten, we have established the following rules in consideration of everyone involved in the construction process (customers, neighbors, tenants, and management companies).
1.Compliance with laws and rules
We work in a safety-first manner. We are flexible to new rules and regulations.
2.Providing high quality services
We will strive to provide high quality services and continue to seek quality improvement.
3.Thorough report, note, discuss
We value communication with our supervisors and construction managers. We will share the progress and information with you every day.
4.Thorough manner education
・Clothing and appearance
・Smoking is only allowed in the car
・Cheerful greetings
・No private conversations on site
We believe that a craftsman is not only a builder, but also a person who is always attentive to his neighbors, as well as observing good manners and morals.
The reason for this is that we believe that no matter how good the workmanship is, if it is sloppy or badly dressed, everything will be ruined.
5.Thorough on-site safety management
We make sure that everything is organized, tidy, and cleaned every day, and we thoroughly check and inspect for any dangerous items when we leave the site.
We are also aware of the weather conditions, and if it is windy, we squeeze the mesh sheets to make sure there are no flying objects.
Our cleaning is done in such a way that the area is cleaner after construction than before.
We always try to pick up any trash we see, even if it is not ours.
We promise to do the above and do it thoroughly.